Case Study 1
Mrs. Sulochana Fernando, visited us on 20th January 2014 complaining of pimples, dark spots all over the face and acne scars in both cheeks. She was deeply worried about her condition and she had been totally disappointed as she had not found any satisfactory improvements with her number of previous treatments done in various medical and non-medical centers in Sri Lanka. Also she complained of her reduced self-confidence due to this disfiguring scarring and pigmentation of her face.
At presentation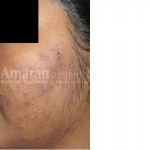 At the consultation with our in house doctor several problems were identified.
Active inflammatory acne, closed comodones (white heads) and open comodones (black heads).
Post inflammatory hyperpigmentation due to acne
Acne scars (ice picked, box scars etc.)
Lack of knowledge on prevention of occurring new acne.
Lack of self confidence
Our treatments goals
Prevent occurring of new acne.
Reduce post inflammatory hyper-pigmentation spots.
Treatment for active acne
Treatment for Acne scars
In order to achieve these goals, Amaran team offered her several treatment options.
Advising her to take preventive measures to avoid recurring of acne by guiding her through a proper diet schedule and maintenance of her cleanliness.
Psychological support to regain her self-confidence.
Combined chemical peel for current active acne and we suggested 3 sessions with 3 week gap in-between.
2 depigmenting peel sessions for her dark pigmented spots.
Treatment for acne scars, we offered 3 treatment modalities.
Laser acne scar Removal – this is the most effective and latest technique in the world with a quicker response although it is bit expensive than other options.
Plasma peel rejuvenation
Microdermabrasion
Her choice was the Laser treatment.
We observed a drastic reduction of active acne and her dark spots and she was happy and satisfied to continue with our treatment.Then we started her on Acne scar Removal treatment.
She expressed us her heart felt gratitude following her successful treatment course
"I am so happy. I don't have words to thank you enough. You saved my life. Now I don't have to hide my face anymore.. Thank you so much" - Sulochana